Our Story
Tong Jum Chew is a company with over 50 years of history. Founded as a small medical hall in 1965, we grew into a wholesaler and distributor of Traditional Chinese Medicine (TCM) by the 1980's. In 2004, we established our own manufacturing facility in Singapore to produce TCM under our proprietary brand Nature's Green. At Nature's Green, we fervently believe that the ancient wisdom and crafts of Chinese medicine, together with its emphasis on achieving and maintaining balance and harmony of the body, mind and spirit, can help you to achieve a better health, vitality and well-being.
All of our products are professionally formulated by our in-house experts who source high quality herbal active ingredients from around the world and manufactured to international Pharmaceutical Inspection Co-operation Scheme (PIC/S) standards in accordance to the principles of Good Manufacturing Practice (GMP). We have more than 400 varieties of products, in the form of tablets, capsules, granules, powder and tea sachets. Among them, film-coated tablets are our unique and prominent products as they greatly improve the herbal drug stability. Through this modern packaging, our customers have convenient access to TCM solutions without compromising the efficacy of the herbs. We have done brewing, extraction and decoction of the goodness by formulating them into capsules and tablets for easier consumption.

Our Commitment
We attach great importance on the quality and efficacy of our products. Before affixing Nature's Green label on the products, we ensure that all materials undergo rigorous analysis ranging from authentication of herbal ingredients in terms of variety, purity and potency, stringent testing for pesticides, heavy metals and toxic residues, optimization of the extraction and production process to the validated testing procedures for semi-finished and finished products. Apart from that, we also conduct stability studies to guarantee that the quality of our products remains consistent throughout their shelf life. Our efforts to adopt a scientific appraisal method, standardized production technology and stringent quality control procedures have enabled our Nature's Green brand of TCM products to be regarded as high quality, effective, creditable and trustworthy.

Our Footprint
Since 2009, we have been opening our own retail outlets and TCM clinics across Singapore, with 6 medical outlets at present. In 2012, Nature's Green became a proud recipient of the Singapore Prestige Brand Award for Established Brands. Our products carry hallmarks of quality and assurance including GMP and PIC/S certifications, as well as accreditation from Singapore's Health and Science Ministry and other governing bodies. Today, Nature's Green has become a trusted brand in Singapore and leading provider of Chinese herbal medicines among healthcare communities. It is our hope to make TCM more readily available and accessible to all at an affordable price, hence creating a better, healthier and more vibrant society.
---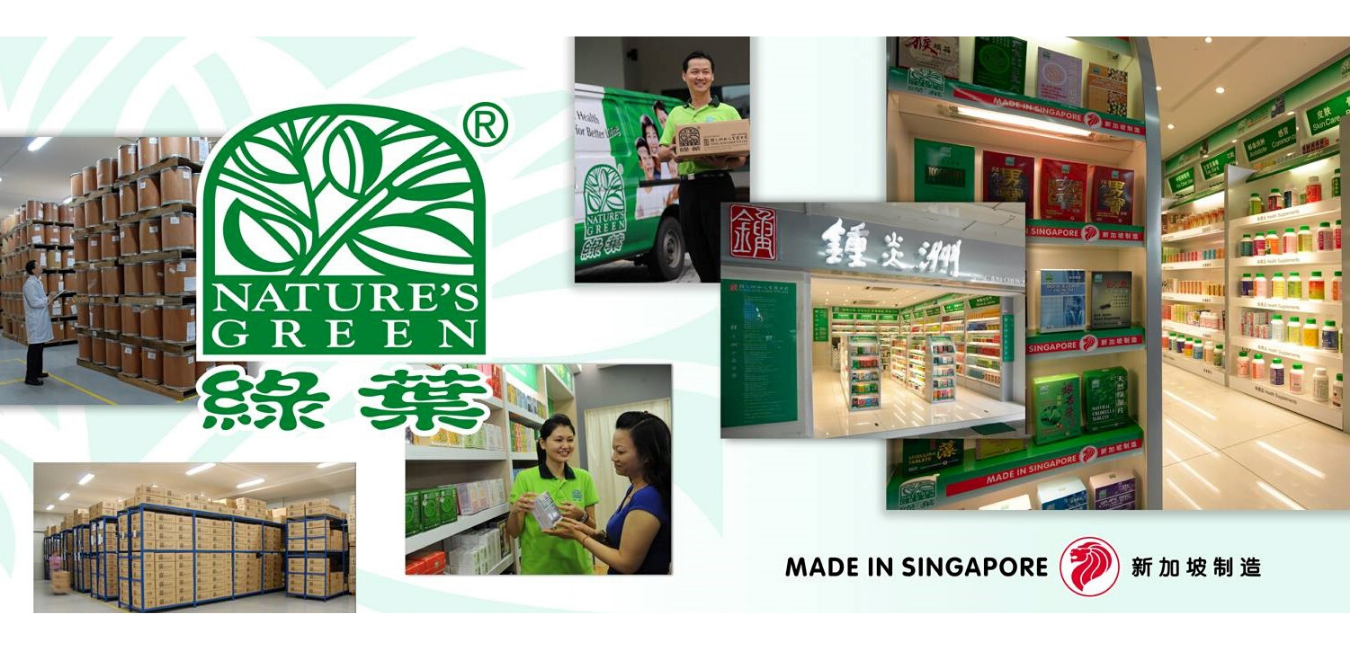 我们的故事
鍾炎洲私人有限公司开业至今已有五十年历史。从1965年到后期1980年代,公司成功迅速地从一间小药堂发展成为广大的中药批发商和分销商;并于2004年在新加坡建立了自己的制药厂和著名品牌-"绿叶"。我们坚信中医药的古老智慧以及其着重于维持身心平衡的概念能助人获得更好的身心健康,活力和福祉。公司引进了现代化生产工艺和设备;从原料,生产,包装,仓库管理和品质检验等各个环节都严格按照 "GMP"标准管理。我们的公司共有400多个产品,分别为片剂,胶囊剂,颗粒剂,粉剂和药剂,其中又以薄膜包衣片为优势产品。它不但大大地提高了药物的稳定性,也提升了传统中药的外观形象因所有药材已浓缩成颗粒以方便客户食用。
我们的承诺
我们对所有产品的质量和功效非常注重,每种药品从处方的筛选,原药材的品种和品质鉴定,提取工艺的优化,生产工艺的确立,以及半成品和最后制成品的检验程序都是经过严格的验证才标示"绿叶"品牌。公司的努力通过科学的鉴定方法,规范化的生产工艺和严格的品质监控程序使标有"绿叶"品牌的中药产品成为品质好,疗效佳,信誉高的"信心"产品。
我们的成就
自2009年, 我们已经在新加坡开设了6间零售店和中医诊所。"绿叶"牌更在2012年成功获选为新加坡金字品牌奖而成为值得骄傲的知名品牌。我们的产品品质受到保证,拥有"GMP"和 PIC/S 的认证,以及新加坡卫生部和其他理事机构的认可。如今 "绿叶" 已成为新加坡值得信赖的品牌以及医疗保健社区中领先的中草药供应商。公司的长远目标是将"绿叶"医药保健品以可负担的价格推广成为东南亚地区中药和保健品的卓越及主导品牌,从而进一步把优良的传统中药和天然保健品发扬光大。