MenoComfort Tablets 平安更年康
Description
Nature's Green MenoComfort Tablets is a Chinese Medicine traditionally used for women's health. This product helps to relieve the symptoms of insomnia, forgetfulness, palpitation, tinnitus, hectic fever, excessive sweating, hot flushes irritability, body weakness, and lower back pain associated with menopausal syndrome. It is suitable for women around 50 years of age who are experiencing menopausal syndrome that may occur before, during, or after menopause.

Direction of use: For oral administration. Take 4 tablets, 3 times daily after meal. Recommended to complete at least 1 course of treatment (30 days).
Ingredients: Please refer to the product photo.
Quantity: 500 tablets
Ministry of Health (KKM) Approval: MAL20016238T


---
绿叶平安更年康片传统用于维持女性生理健康。此产品有助于养心益肾、调补冲任;适用于更年期综合症出现的失眠健忘,心悸,耳鸣,多疑善感,烘热汗出,烦躁易怒,腰背酸痛等症的50岁女性。

服用方式 : 口服。 一次4粒, 一日3次,饭后服用。建议至少服用1个疗程(30天)。

成分:请查阅产品照片。

数量:500粒

卫生部(KKM)注册号:MAL20016238T
Additional Info
This product is registered in Singapore as Nature's Green Woman's Harmony Tablets.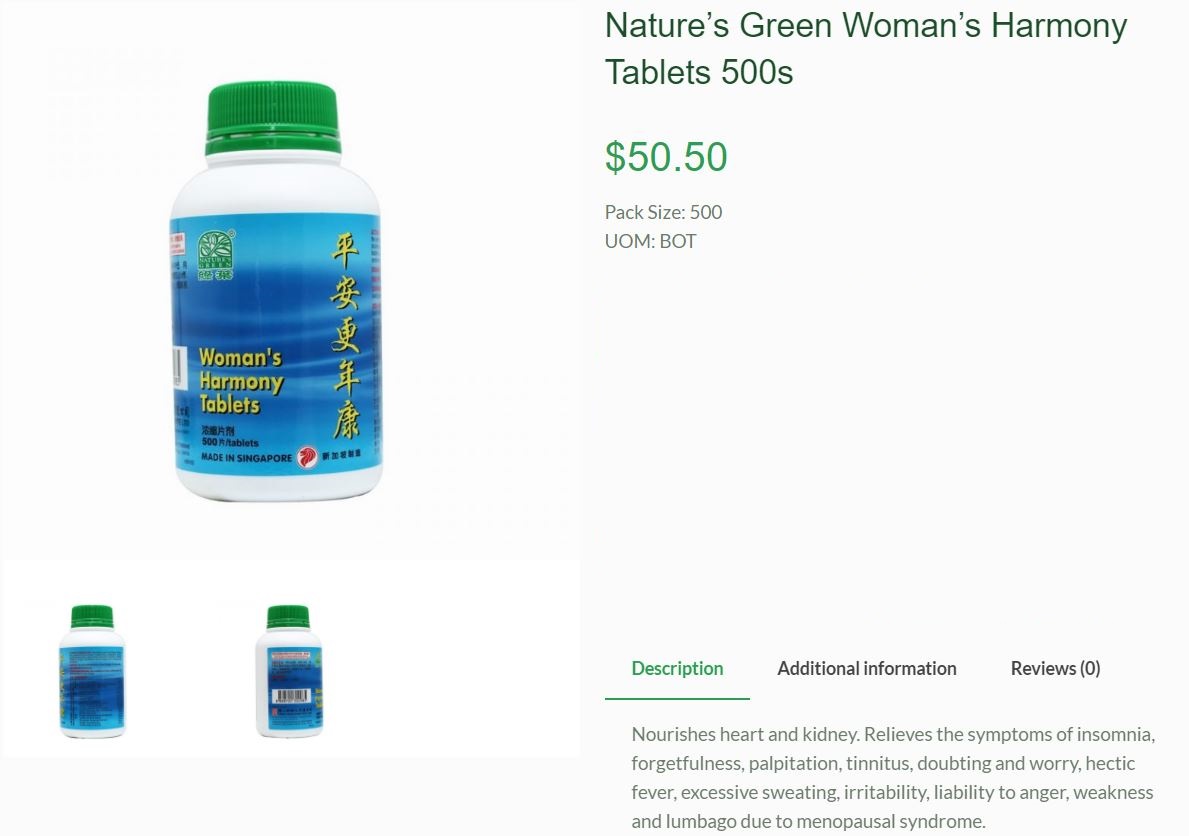 养心益肾,调补冲任。用于更年期综合症出现的失眠健忘,心悸,耳鸣,多疑善感,烘热汗出,烦躁易怒,腰背酸痛等症。
FAQ
Can this product be taken for long term?
Yes, this product can be taken for long term. Results may vary between individuals depending on the severity of conditions.


Any side effects after taking this product?
Every medicine has its own side effects. However, there is no significant side effect reported with the use of this Chinese Medicine product thus far. If symptoms persist or worsen, please consult your doctor.


Can I take this product while taking other prescribed medications?
Yes. We recommend separating the intake of this product by 2 hours after taking prescribed medications.


Can pregnant women take this product?
No, it is not recommended.


Is this product suitable for vegetarians?
No. This product contains substance from animal origin.


Can I take this product if I have high blood pressure, high cholesterol, diabetes and/or heart disease?
Yes. However, it is advisable to consult your doctor if symptoms persist or worsen.
---
是否需要长期服用?

可以长期服用。由于个人情况和体质不同,效果也因人而异。


服用会有什么不良反应?

每个药物都会有副作用,为本草配方一般无不良反应,如有不适可立刻停止服用,并询问医生。


如有服用其他药,可以服用吗?

可以。只要在服用的时间错开两小时就行了。


孕妇可服用吗?

不建议服用。


此产品适合素食者吗?

不。此产品含有动物来源的物质。


有高血压,胆固醇,糖尿病或是心脏病患者可服用?

可以,如情况持续,请询问医生。